Wedding on a boat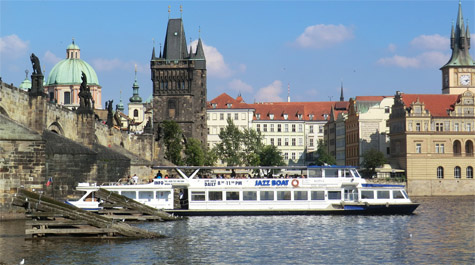 Are you planning a wedding and looking for a unique venue to make you day magical? Look no further than Prague´s Vltava river where you can get married on a beautiful boat or steamer.
Be surrounded by the spectacular views of the Prague skyline, Prague Castle and many other famous sites along the banks of the river whilst celebrating one of the most important days of your life. The decks of a boat can also offer a stylish venue and complete privacy for you and your loved ones to celebrate such a special day.
The place is your choice ...
Right in the centre of Prague you have the opportunity to exchange vows with your partner on the part of the river that you like the most.You can choose to do it with a clear view of Prague Castle or under the shadow of Charles Bridge, or how about the mythical Vysehrad as a backdrop to this special moment. The route of the cruise is up to you so you can be sure that you get to celebrate your wedding in only the best parts of the city with the most romantic vews that this historical city has to offer.
The wedding party
After the official ceremony you can stay on board and relax in the wonderful and unique atmosphere of the boat which will be stylishly adorned with decorations for the occassion which of course are complemented by the breathtaking views. You can also rest assured that you will get the best service accompanied by top quality dining.
All the details of the party after the ceremony will be taken care of in accordance with your wishes. You can design your wedding party as you would wish it to be and all will be taken care of so you can relax and enjoy the company of your friends and family.
Planning a wedding
If a wedding on a boat in Prague is one of the options you are considering do note hesitate a minute and contact us, we will be happy to provide you with any extra information you might need! Please contact us on evd@paroplavba.cz or +420-224 810 030 or 224 810 032.