Crystal Dinner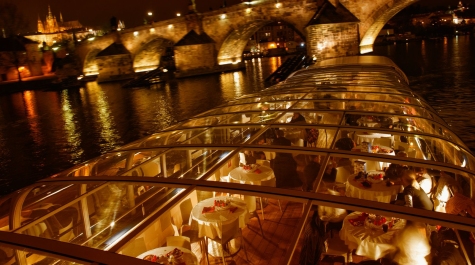 A cruise the likes of which you've never seen before – that's the crystal dinner, which we operate on an entirely glass boat that you won't experience anywhere else in Prague.
There is no more beautiful dinner in Prague than the crystal dinner on board of our glass boat.
The cruises are always operated on one of our super-modern, luxurious boats: Grand Bohemia, Bohemia Rhapsody or Agnes de Bohemia, which are unique thanks to their glass retractable roofs. 
You can look forward to a unique and unforgettable experience, undisturbed views of Prague's monuments through the glass roof or directly from the open deck, and of course, a stylish buffet dinner, where you can choose according to your taste.
The Crystal dinner cruise starts at:
At least two persons per table required for reservation. We guarantee a private table for at least four persons.
DURATION:
180 minutes
Crystal Dinner - Price:
59 € (adults) | 39 € (children)
Crystal dinner cruise + window seat - Price:
69 € (adults) | 49 € (children)