Vyšehrad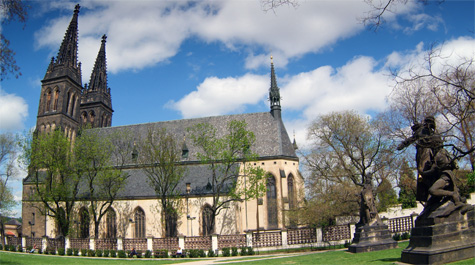 As famous for its legends as it is for its history, Vyšehrad offers you a truly cultural experience, a walk through history and a quiet bench from which to enjoy the panoramic views.
History
Vyšehrad is truly a mythical site, steeped in history and legend. The legend tells of how Libuše foretold the glory of Prague from this very site. The history tells us that a fortified settlement appeared at Vyšehrad sometime during the 10th century. It had its glory days during the rule of  Vratislav II (1061-1092) who chose Vyšehrad as his royal residence instead of Prague Castle. He strengthened fortifications, built a palace, founded the Basilica of St Lawrence, the Rotunda of St. Martin and and The Vyšehrad Chapter. Since then the seat of power was moved back to Prague Castle after which Vyšehrad went from being a fortress during the reign of Charles IV to dilapidation during the wars and back to a training centre for the Austrian Army under the Habsburg Monarchy and it has been preserved almost unchanged to the present day.
What to do?
While strolling around the grounds you will surely encounter the Romanesque St. Martin´s rotunda from the latter half of the 11th century and of course you cannot miss the beautiful Neo-Gothic Church of St. Peter and St. Paul which dominates the skyline with its blackened spires. It is particularly impressive at night when it is completely lit up. Beside the Church you will find the graveyard which is far from depressing. Here you will discover the final resting places of  some of Czech´s most respected people including Alfons Mucha, Bedřich Smetana and Antonín Dvořák. Apart from this the graveyard itself is a masterpiece to be explored.
Amble over to the opposite side of the Church and you will find a park full of interesting sculptures of Czech historic figures including Libuše and Přemysl by the famous Czech sculptor Myslebek, who also spent 20 years creating the statue of St. Wenceslas which stands proudly in the centre of Wenceslas Square. Vyšehrad is also one of the most romantic sites in Prague where you can always find a quiet spot to look out over the panoramic views and simply enjoy the serenity of your surroundings.