Tuscany Palace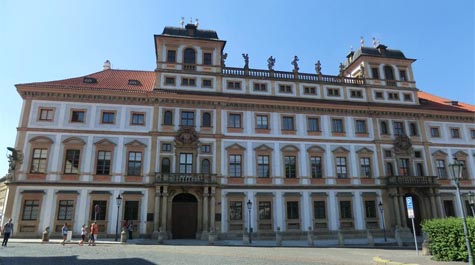 The Tuscany Palace (Toskánský palác) is a grand Baroque building situated in the Western part of Hradčanské Square. It is used by the Ministry of Foreging Affairs of the Czech Republic.
The palace started being built in 1960 by Count Thun from Hohestein at a place where there were several houses owned by the Lobkowicz family. Count Thun planned to establish here, in the immediate vicinity of Prague Castle, his representative seat though he did not live long enough to see it finished. In 1718 the unfinished palace was bought by the Dutchess of Tuscany – hence the name.
The palace was built built by the architect G.A. Canevalli based on the projet of the French architect Jean Baptist Mathey. The palace has altogether four closed wings with a rectangle courtyard between them and two fountains. The Baroque facade is decorated by two Tuscany coats of arms and statues created by Jan Brokoff.
The Tuscany Palace was completely reconstructed in 1998. Soimetimes it is open for public though usually only the first floor.