Třebíč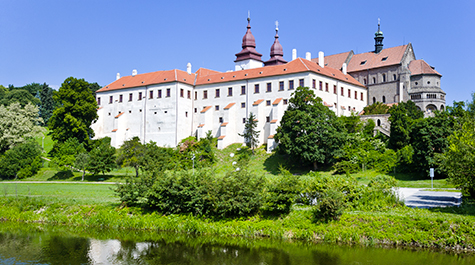 Třebíč encompasses a wonderful example of Jewish urban design in its Jewish quarter and one of the best preserved Jewish cemeteries in Europe and it is unique in showing us how pre-20th century Jews and Christians co-existed.
History
The origins of the town date back to 1101 when the Benedictine monastery was founded, part of which later developed into the impressive Basilica of St Prokop. Due to the stature of the monastery a commercial centre developed around it which became the town of Třebíč. The first Jewish community dates back to the 16th century. From the end of 18th century it was one of the most populous Jewish communities in the whole of Moravia. Sadly, because of the holocaust, none of the descendants of the original inhabitants live in the former Jewish Quarter. Therefore, many buildings, such as the town hall, rabbi´s office, hospital, poorhouse or school, do not serve their original purpose any more.
What to do?
Třebíč is a wonder for its Jewish history. Certainly a stroll around the Jewish quarter, also called the ghetto, is a must with its quaint buildings in various colours and its wonderful architecture. There is quite a dense built-up area with winding little streets, dark corners, archways and romantic little squares. At the entrance to the Jewish Quarter there is a historical building which used to be a gate separating the ghetto from the Christian community. The gate, as well as wires or chains across certain streets, closed the ghetto at night, on Saturdays, Sundays, and on holidays of both religions. By the entrance to the walled Jewish cemetery be sure to take a peek inside the funeral hall, which is still in use today, as it houses some lovely artifacts. From there you can go to the Romanesque Basilica of St Prokop, dating from the 13th century, to see a masterpiece of architectural design and a magnificent interior which includes valuable early Gothic 13th century mural paintings and be sure to venture to the crypt to see its elegant Gothic vaults. The Basilica´s stunning interior is sure to impress.