The Holy Trinity Column in Olomouc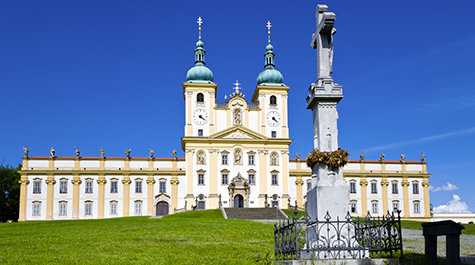 If you are looking for a sample of true Czech Baroque style in the historical town of Olomouc, then you will find it in the Holy Trinity Tower. In 2000 this wonderful gallery of sculptures was enlisted in the UNESCO World Heritage list and is considered to be one of the most important European works of art of its kind.
A bit about the tower
The column, which is a towering 35meters high, was built between 1716 and 1754 in honour of God, the Catholic Church and the faith and as thanksgiving for the ending of a plague which had ravaged Moravia between the years 1713 and 1715. It is in fact the biggest cluster of Baroque statues in one sculpture group in the whole of Central Europe!
The tower displays an impressive array of sculptures of saints including Jesus´ relatives and other saints more closely linked to Olomouc itself. It even includes the sculpture of a man who, at the time his sculpture was included, was not even a saint! But the local following of Jan Sarkander was so great, that the sculptors took the risk of attracting the wrath of the Holy See and included him. Jan Sarkander had been a priest who was tortured to death in Olomouc prison in the beginning of the Thirty Years' War, because he, as the legend says, refused to break the seal of confession. He was finally cannonised in 1995.
You might want to know…
Only four years after the column was completed, when Olomouc was besieged by a Prussian army the Holy Trinity Column was hit by shots from Prussian cannons several times. Olomouc citizens were so worried about the column that they went in a procession to beg the Prussian general not to shoot at the monument! General James Keith thankfully agreed and the column was repaired soon after the war. A replica of a stone shot was half-buried in its stem on the place where it was hit to remind people of what had happened.