Telč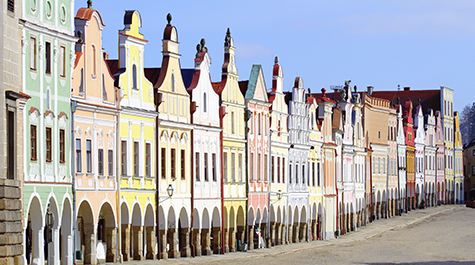 With its Italian inspired arches and sgraffito engraved facades, walking through Telč is like walking through a fairytale setting.
History
The town was probably founded in 13th century as a royal water fort on the crossroads of busy merchant routes between Bohemia, Moravia and Austria. The most important person in the history of Telč must be Zacharias from Hradec. He was born in 1526 and in 1550 he acquired Telč through a family agreement. This young aristocrat and other Czech lords and knights travelled to Italy and spent many months there. He was enchanted by the residences of Italian dukes, by large Italian cities – Milan, Genoa, Verona and others. On his return, he dramatically renovated and expanded the castle and the town in the Renaissance style finding inspiration in his stay in Italy. Another interesting fact is that Prior to the Expulsion of Germans from Czechoslovakia after World War II, Telč had, as did its neighbor Jihlava, a principally German-speaking population!
What to do?
The uniqueness of Telč lies in the fact that the historical centre, enclosed ponds and gates have retained their charming character for almost five hundred years. The remnants of the Gothic fortification with gates, a great number of Gothic and Renaissance burgess houses with archways and Renaissance, Baroque and Classicist facades have been preserved, almost untouched, up until the present day so a wander through the historical centre is a treat for the eye. The dominant feature of the town is a castle. It had originally been a Gothic castle built in the 14th century until Zacharias from Hradec had it renovated in the 16th century in the Renaissance style and it is certainly worth a visit along with its English style gardens. Inside the castle be sure to notice an interesting painting depicting one of Telč´s former owners being thrown out of a window in Prague Castle. Count Vilem Slavata, along with another man was said to have fallen 21 meters(70 feet) and survived! How? Because they landed on a huge pile of manure in a dry moat!