School Trips to Prague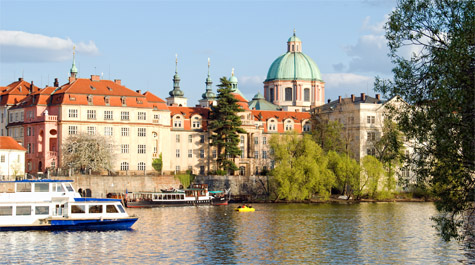 The city of Prague is jam packed with things to see and do so it is the perfect location for a school trip that can be both fun and educational and one of the best ways to see some of Pragues major sites is from the river.
It is the ideal place to get a clear view of the banks of the river where many famous sites are located. Your school group can have fun on board a boat whilst getting to see some amazing places such as Prague Castle, Vysehrad, Petřín Hill and it´s watchtower and of course, Charles Bridge.
Cruising the Vltava can combine fun with education with a translated commentary available to give you some information about the sites as you pass by them so the students will learn something while enjoying the ride on the boat. You can choose from a few different types of cruises which vary from a quick one hour cruise to a cruise with lunch or later in the day cruise with dinner. Whichever cruise you choose, there cannot exist a more pleasant and comfortable way to see the sites than from the decks of a boat rather than trying to steer a group of students through the crowded streets.
Apart from being able to offer stunning views, an educational commentary and a fun boat ride on the Vltava, there is also a selection of refreshments on board along with a wide range of beverages so the students can relax, have fun and enjoy the cruise without going hungry. A boat ride through the beautiful and historic city of Prague can certainly offer everything that an energetic group of school students would want.
Planning a school trip to Prague?
If you are planning a school trip to Prague and you already know you would like to take the opportunity of being in Prague and take the river cruise or whether you only need some extra information please be so kind to contact us on evd@paroplavba.cz or +420-224 810 030 or 224 810 032.