Rudolfinum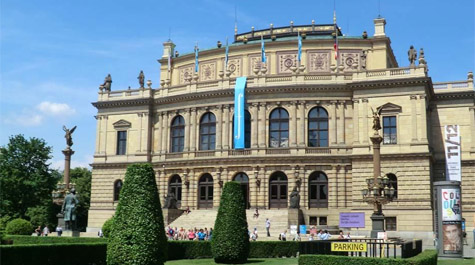 Rudolfinum is one of the most significant neo-renaissance buildings in the Czech Republic. It is situated on Jan Palach Square by the Mánes Bridge. It is the home stage of the Czech Philharmonic Orchestra and and also one of the main venues for the Prague Spring International Music Festival.
It was built thanks to the oldest financial institution in Prague, Böhmische Sparkasse (these days Česká spořitelna), that wanted to celebrat the 50th anniversary of its foundation. The architects chosen to build such a majestic building were Josef Zítka (architect of the National Theatre) and Josef Schultz (architect of the National Museum).
At the grand opening on 7th April 1885 the crown prince Rudolf was present to preside over the event  and the building was called Rudolfinum to his honour. Nevertheless, after independence was declared in 1918 and especially after World War II a new name was adopted, House of Artists. Nowadays it is called Rudolfinum again.
For the original purposes Rudolfinum served 33 years. As soon as it was opened it became the centre of Czech culture. The origins of the National Gallery can be found here as well as the Czech Philarmonic Orchestra. The Orchestra's very first concert took place here on 4th January 1896 conducted by the famous Czech composer Antonín Dvořák.