Public Transport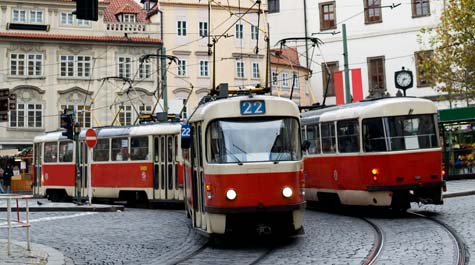 Metro
The Prague metro system comprises three lines, each of them is designated by colours and letters.
Line A (green) Skalka - Dejvická
Line B (yellow) Cerny most - Zlicin
Line C (red) Ladvi - Haje
Trains lever every approx. every 3 minutes during peak hours and 6-10 minutes during off-peak periods. The metro operates from 5 a.m. till midnight every day. There are three interchange stations at Můstek (A x B), Muzeum (A x C) and Florenc (B  x C).
Trams
Trams start to operate at 4.30 a.m. and the last tram you can catch fifteen minutes after midnight. However, there's a night tram service (trams 51-58) which means you can get pretty much anywhere using trams and not taxis.
Buses
Buses are similar to trams, the difference is that trams cover more or less the centre of the city whereas buses the rest. Buses 501 – 513 operate at night as well.
There's a bus service from Prague Airport. You can either go by bus No 100 to Zlicin (metro yellow line), No 179 and 225 to Nove Butovice (also yellow line) or No 119 and 254 to Dejvicka (the green line).