Prague Castle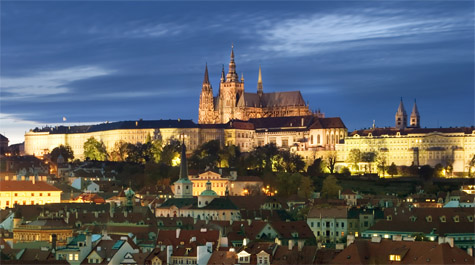 Offering spectacular views of Prague´s beautiful red rooftops, Prague Castle is the largest coherent castle complex in the world, with an area of almost 70,000 m²!
History
It all began around the year 800 when construction was started by Prince Bořivoj from the Přemysl Family. Over the centuries Prague Castle has metamorphosed and grown under different leaders and virtually represents every architectural style over the last millennium. It has survived fires and wars and been dilapidated and rebuilt to become an intriguing complex of palaces, churches, fortification and courtyards.
Probably the most well known King to have had a hand in the development of the Castle complex is King Charles IV who had the Royal Palace rebuilt in Gothic style. During World War II, Prague Castle became the headquarters of the "Reich Protector of Bohemia and Moravia" Konstantin von Neurath and his deputy, Reinhard Heydrich. It is said that Heydrich placed the Bohemian crown on his head. An old legends say that a usurper who places the crown on his head is doomed to die within a year. Less than a year after assuming power, Heydrich was assassinated.
What to do?
This wonderful Castle and its grounds have enough sights to tire out even the most enthusiastic sightseer. The impressive Gothic St. Vitus cathedral, burial place of so many Bohemian Kings and their wives were buried, must be seen and the Basilica of St George houses the world´s largest collection of 14th century panel painting. There are several museums  including a toy museum within the grounds and the quaintGolden lane with its tiny houses, where once lived the writer Franz Kafka.
The castle is equally impressive inside as it is outside so after a wander around the grounds and courtyards you could treat yourself to a tour of the castle itself. Sure to be thirsty after all that, head to one of the many wonderful bars and cafes within a stone´s throw of the Castle´s main entrance in Lesser Quarter and simply enjoy your medieval surroundings knowing you have just seen something unforgettable.