Petřín Tower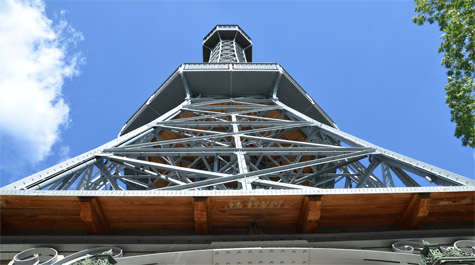 The observation tower was built in 1891 fro the Jubilee Exhibition, it is a small copy of the Eiffel Tower in Paris. It offers an astonishing view of the whole of Prague.
Petřín Tower is "only" 60m tall which might seem not to be particularly high, however, when you reach the top you're most likely to change your opinion because it is positioned on the top of Petřín Hill. On a clear day you can see as far Krkonoše – about 150 km away, where Sněžka, the hightest mountain of the Czech Republic lies.
From the top of the tower there is a wonderful view of Prague, particularly the adjacent Lesser Quarter with the beatiful red roofs and Prague Castle which can be seen from above, an opportunity that certainly shouldn't be missed.
The Petřín Hill is a in a way a large park with a beautiful garden at the top. It's a favourite destination for both tourists and locals as it is an ideal place for having a stroll in every season of the year.
Not far from the observation tower there is another attraction worth visiting, Petřín Mirror Maze.