One-hour river cruise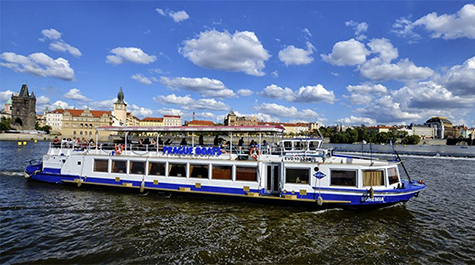 Get to see Prague´s main sights from the comfort of the boat deck in just one hour. In such a short time you will see wonderful sights such as Prague Castle, Charles Bridge and Vyšehrad, not to mention the stunning architecture of the buildings that line the banks of the river.
Relax and take advantage of our facilities on board where you will find an array of refreshments. For those interested, there is a translation available to tell you a little about the sights as you see them. Combine a little adventure with your sightseeing and take a cruise with us for a memorable experience.
The boats sail at:
DURATION:
50 minutes
Price:
14 € (adults) | 8 € (children)
The one-hour river cruise starts by:
Čechův Bridge - the place is very easy to find, it is a 5min walk through Pařížská Street from the Old Town Square.