Old Town Square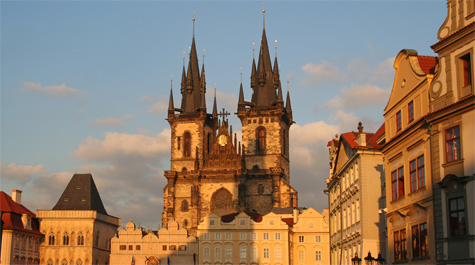 Old Town Square (Staroměstské náměstí)  is absolutely saturated in history and in stories that belong to the realms of mythology. It offers to transport you into the past as you gaze in awe at the beauty of the buildings that surround you.
A Brief History
Old Town Square has been the scene of great events, both glorious and tragic. It dates as far back as the 10th century when it began as a bustling marketplace where merchants traded exotic goods brought from far flung counties. Over time Romanesque, Baroque and Gothic buildings were erected around the square, each reflecting the architectural era in which they were built. This magnificent square has seen aristocratic births and the executions of rebels and it has echoed with the words that told of the coming of communism.
What to do?
Lose yourself in the historical treasures that the Old Town Square can offer you. Join the throngs of tourists gazing upwardly to witness the Astronomical Clock strike the hour. Visit the beautiful Baroque St. Nicolas Church and wander around its interior or get a panoramic view of the Old Town from the dizzy heights of the Old town Hall. After you have worked up a thirst, take a seat outside one of the many restaurants and sip on a froathy czech beer while you soak up the atmosphere and watch the hustle and bustle go by. If you are visiting in winter then be sure to warm yourself with a cup of svařák (mulled wine) which you can sip from between gloved hands while wandering around the Christmas market which offers many a christmas trinket and other wonderful novelties that might serve as a souvenir. One thing is for sure, you won't be bored!