Nelahozeves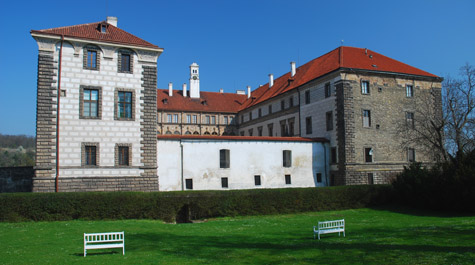 Nelahozeves is a small village situated about 30km from Prague on the left bank of the Vltava River. It is a place where in 1841 on of the greatest Czech composers, Antonín Dvořák, was born.
The oldest written document of the village's existance dates back to 1352. The Renaissance chateau towering over the village was built between 1553 - 1613. It was built in the 16th century in the Italian style by the architect Florián Griespech of Griespach - the chateau's exterior strongly recalls Italian castle architecture. The chateau has been owned by the Lobkowicz family since 1623.
The chateau in Nelahozeves serves as a part of the Lobkowicz collection of paintings including works of Antonia Canaletto, Peter Paul Rubens, Diego Valézquez and others.