Municipal House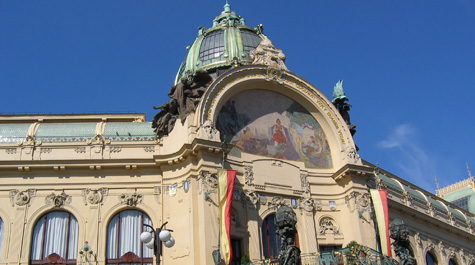 The Municipal House (in Czech Obecní dům) is one of the most beautiful concert halls in the whole of Europe. The Art Nouveau building with a neo-renaissance touches has also a very important role in the Czech history. It is situated at náměstí Republiky next to the Powder Tower.
At the place where the Municipal House stands now used to be a Royal Palace which served as a seat of Bohemian kings between 1383 – 1484. The palace was the beginning of the Royal route. The kings-to-be started they procession to Prague Castle- where they would be corronated - here.
Two important historical events took place here in the 20th century as well. On 28th October independence of Czechoslovakia was proclaimed here and in November 1989 it was the place of the first official meeting between the Communist regime and the Civic Forum led by Vaclav Havel.
Inside there are a few concert halls of which the Smetana's hall is the biggest one. It can take up to 1 200 viewers. There are concerts taking place here almost every day, perhaps the most important event that takes place here every year is the Prague Spring festival.