Mělník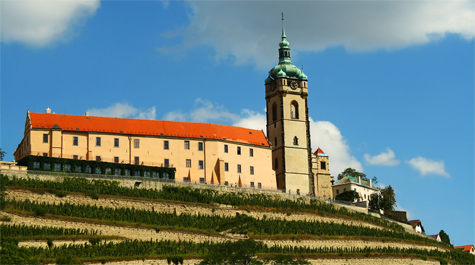 The Middle Ages royal town of Mělník is situated by the confluence of the Vltava and the Laber rivers. It is a popular destinations with the visitors of Prague as it is very close to the city and very easy to get to by all means of transport.
History and wine
The first tribes are believed to have lived here in the 5th century. In 1274 Mělník was given the status of town by the Bohemian king Přemysl Otakar II and later during the reign of Charles IV it was given the royal town status. Charles IV was also responsible for improving the local vineyards, the king had wine grapes brought from Burgundy and Chapagne.
The town's history is closely connected with wine producing, a tradition that has lasted here more than a thousand years. The vineyards in Mělník produce fine-flavoured grapes from which the excellent and widely recognized wine is produced. Each year a grape harvest festival takes place at the end of summer in the town and the otherwise quiet medieval town changes into one big wine party.
Mělník Chateau
The chateau overlooking the confluence of the two rivers has its origins in the 9th century when it was a stronghold of the tribe of Pšované. Later it was changed into the Gothic style and its present Renaissance appearance the chateau acquired in the mid-16th century.
You can take a guided tour around the chateau and as you are in the region of wine,wine tasting is prepared for you in the chateau cellars.