Matějská pout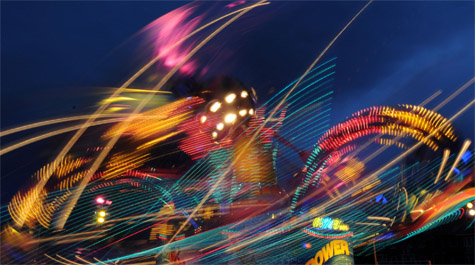 One of the biggest attractions for big and small fun-seekers must be the Matejska pout, believed to be one of the first spring funfairs in Europe.
It takes place every spring on the Vystaviste showgrounds most usually between March and April. The funfair has attractions ranging in levels of fear-factor and adrenalin boosting including attractions such as roller coasters, houses of horror, Ferris wheels, bumping cars, carousels, shooting galleries and all sort of other thrill-giving attractions. Prices vary from the cheaper, such as the bumping cars, merry-go-round, house of horror and target range, to the more expensive (up to 200kc) for more technical and more expensive to run attractions.
Apart from the huge arrange of attractions, which averages about 130 of them, there are plenty of other delights to be had. Food is yet another attraction with the traditional, colourfully decorated gingerbreads in all sorts of shapes, Turkish honey and candy floss. There are of course a range of more savoury foods if real hunger strikes so you can refuel yourself and get back to the amusements. The wonderful thing about Matejska pout is that there are plenty of amusements for kids and adults alike so there is something for all the family. Even after all the excitement and fun of Matejska pout is over, there are still about 20 amusements which remain there all year round.