Litomyšl Chateau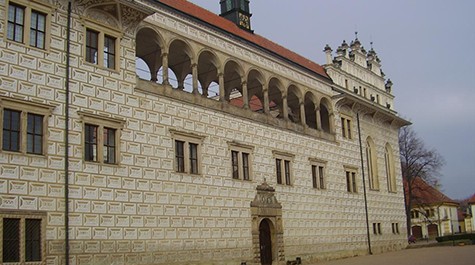 Litomyšl Chateau is not only one of the most spectacular examples of Rennaissance architecture in the Czech Republic, but it is also the birthplace of the composer Bedřich Smetana and it is so packed full of things to see, that it will keep you absorbed well until dinner time!
History
It dates back to the years 1568–1581 but the oldest mention of it dates even further back to the 12th century when it was originally a wooden castle. It was rebuilt in stone only after the Hussite Wars. It has had many owners but the one responsible for rebuilding the castle was one of the most powerful aristocrats in the kingdom, Vratislav II. of Pernštejns son. He had the castle built for himself and his Spanish wife Maria Manrique de Lara from the Mendoz lineage and their 21 children, many of whom died in childhood leaving them with one son and eight daughters.
What to do?
Be sure to wear a comfortable pair of shoes as you will be here for a while! Perhaps you could start inside and take a tour. In total, there are thirteen rooms which are accessible, including the billiard room, library, chapel and a rare baroque theaterette, which is one of only five working examples in the world (another is at Český Krumlov).
Something certainly not to be forgotten when visiting Lytomyšl is the beautiful and massive cellar with a perfect system of catacombs and of course you must include thecastle brewery, where Smetana was born. His room there now holds an exhibition. Another highlight is the monstrous crystal chandelier which was created for Miloš Forman's film Amadeus, and later donated to the Litomyšl chateau.
After all that you can take a stroll around the castle grounds and admire the unique beauty of the sgraffito ornamentation in the form of love letters, which cover the entire exterior façade of the castle. Finally, amble over to the Monastery Gardens which are ideal for a picnic. Relax under a shady tree and admire the exhibition of sculptures by Olbram Zoubek in this most picturesque of settings.
The Smetana's opera festival in Litomyšl
The Smetana's opera festival takes place in Litomyšl - the Litomyšl castle and its courtyard is the main stage. Top class musicians from all around the world gather here at this time and the town become the centre of culture. Each year about 15 000 - 20 000 people visit the festival.