Lesser Quarter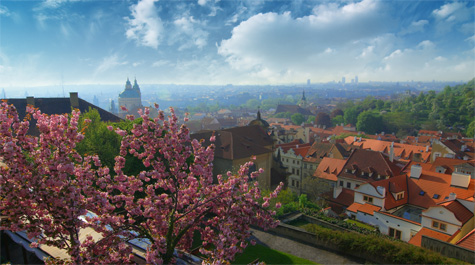 Nestled into the hill below Prague Castle, Malá Strana is home to the grandeur of palaces and the quaintness of the old Inn and it offers you a magical journey through history.
History
Malá Strana is located on the left (west) bank of the river Vltava, on the slopes just below Prague Castle. It was created in 1257 by amalgamating a number of settlements beneath the Castle into a single administrative unit. In the Middle Ages, the residents were mostly German craftsmen who had been invited by the King. It also housed a large number of noble palaces. An important factor in the development of the Lesser Quarter were the Judith and later the Charles Bridge which connected it to the Old Town and through which led the Royal Mile. (This is the route taken by the coronation processions of Czech kings in the Middle Ages that started at the Municipal House.) Many religious institutions, merchant and administrative institutions were located here. The Lesser Quarter therefore, had a considerable impact on the life of the larger town on the right banks of the Vltava. Eventually it merged with Prague in 1784. Among other institutions, the Parliament of the Czech Republic is located here.
What to do?
This part of the city must be one of the most historical areas. It is packed with little shops and restaurants huddled between grand buildings housing ministries and embassies. Each Prague Guide simply reccommends to stroll around is a trip through time but if you want to explore a little deeper then you cannot miss St.Nicholas Cathedral where you can take a tour or even stay a little longer for one of the regular concerts held within to hear the very organ that was played by Wolfgang Amadeus Mozart when he lived in Prague! You can even visit the seat of the senate during weekends, the richly decorated Wallenstein Palace. Built between 1624 and 1630 by Albrecht von Wallenstein, it was meant to overshadow even Prague Castle itself.
If you would like to escape the many other tourists, Malá Strana can boast some of the most  peaceful parks such as Peřín Hill, which offers one of the best panoramic views from the 60m high Observation Tower or at river level there is the enchanting Kampa Island. Choose from one of the many cafes or restaurants, relax and enjoy your historical surroundings.