Legion Bridge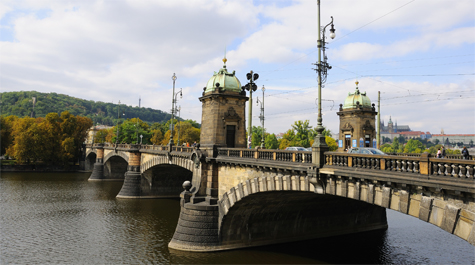 The Legion Bridge (Most Legií) is a granite bridge between the National Theatre and Újezd. From the bridge you can get to Střelecký Island, an island in the middle of the Vltava river at this place.
The bridge was built between 1899 – 1901 and replaced the earlier Francis I Chain Bridge (built in 1841). It was built from the innitiative of a businessman Vojtěch Lana and designed by Antonín Balšánek. It was famously opened on 14th June 1901, Franz Joseph, after whom the bridge was originally called (until 1919) presided over the opening.
The bridge 345,5 m long and 16 wide and is divided into 9 elliptical arches. The architectural details are the done in a combination of neo-Baroque and Art Nouveau styles.
Střelecký ostrov
Střelecký ostrov is a bridge in the middle of the Vltava river in Prague accessible from the Legion Bridge by a wide staircase. On the island there is a cinema, restaurant and cafe with a terrace. From the isladn there is a wonderful view of the National Theatre.
Bridge's name
The Legion Bridge is named of the the Czechoslovakia legions that formed during World War I. Bohemia was part of the Austro-Hungarian empire but thousands of volunteers fighting abroad fleed the army and supported the other side with the aim to create an independent country of Czechoslovakia. The plan innitiated by T. G. Masaryk eventually succeeded and Czechoslovakia obtained independence in 1918.