Lednice-Valtice Area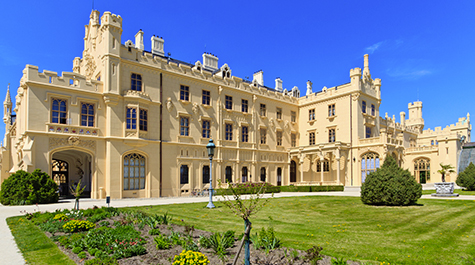 You are sure to be impressed by the two villages adjoined by 283,09 km2 of landscape architecture of unprecedented proportions with a system of ponds, forests, parks, agricultural land, tree alleys and many romantic buildings and pavilions and two chateaus connected by 7km of tree lined avenue!
History
Over many centuries The Lichteinstein Family created here an architectural masterpiece. The history of the area dates back to the 12th century when a huge castle was built here by the Seefeld Family. The Lichtenstein family rebuilt this castle at Valtice but during the Thirty Years War the chateau was severely damaged by the Swedish troops. The damaged complex was then given its current appearance – a Baroque residence. They also rebuilt a former Gothic castle at Lednice in the 19th century which is now in the romantic Neo-Gothic style. The wonderful and extensive park between the two Chateaus was landscaped in the style of English parks.

What to do?
The obvious answer is of course to visit the two Chateaus! Feast the eyes on the beauty of their rich decor and architecture and afterwards you can take a stroll in the adjoining gardens. To make it even more interesting, the gardens are interlaced with ponds and interesting decorative pavilions and various other architectural adornments including an Islamic symbol. It is the oldest preserved prayer tower in the whole of the Czech Republic and the highest of its kind in a non-Islamic country. Of course you couldn´t possibly cover almost 300km² on foot so why not take a bike ride through the estate? The so-called Lichtenstein paths are more than 90km long! Or take a romantic boat ride along the Dyje river and for wine lovers there is the the Wine Education Trail in Valtice. Whatever way you choose to spend your time in the Lednice-Valtice area, you are sure to have an enriching cultural experience.