Kutná Hora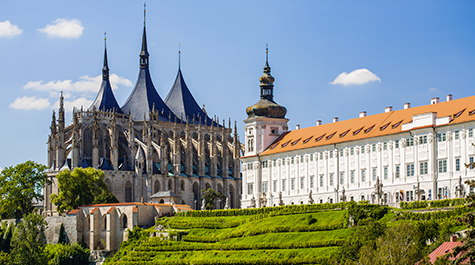 Kutná Hora is a town that has seen the highs of economic prosperity and the lows of poverty, plague and death. But today it is a charming town with a rich history and many spectacular buildings built in a number of architectural styles.
History
The history of Kutná Hora is inextricably linked with silver which was mined here for centuries making the town one of the most economically thriving in Bohemia, second only to Prague. The town began in 1142 with the settlement of the first Cistercian Monastery in Bohemia. By 1260 German miners began to mine for silver and the city developed rapidly. By the outbreak of the Hussite Wars in 1419 it had become the favourite residence of several Bohemian kings. Sadly, fate had a more unfortunate future in store for Kutná Hora. In 1546 the richest mine was hopelessly flooded, repeated visitations of the plague and the horrors of the Thirty Years' War completed its ruin the town became impoverished. In 1770 it was devastated by fire and the mines were abandoned once and for all at the end of the 18th century.
What to do?
Kutná Hora may no longer be rich in silver but it is certainly rich in historical sites! Keeping the connection with the mines a visit to St. Barbora Church, one of the most famous Gothic churches in central Europe, should be on the cards, as she was the patron saint of miners. For fans of the macabre, the Chapel of All Saints ossuary is just what you are looking for. It is estimated to contain the skeletons of between 40,000 and 70,000 people. Among other ghoulish decorations there are four enormous bell-shaped mounds occupying the corners of the chapel and an enormous bone chandelier! Of course, being in Kutná Hora, a mining town, why not visit the mine itself? Hradek Mining Museum offers a tour of the medieval mining shafts and tunnels on one of the twenty levels below the town. These are but a small selection of the wonderful sites to be visited in the remarkably historic Kutná Hora.