Kroměříž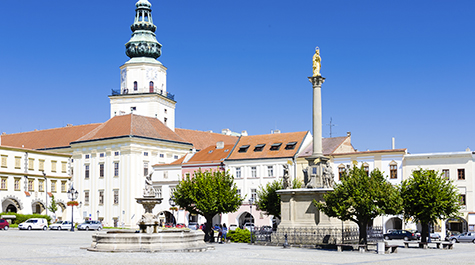 This town of historic monuments, schools, arts and culture is called "The Athens of Moravia". Its richness in historical monuments even earned it the title of the most beautiful historic town in the Czech Republic in 1997.
History
Koměříž started its life as a market village at a crossroads on the main commercial route. Its history is tightly connected with the history of the Olomouc bishopric, whose bishops and archbishops had a residence in the original 13th century Gothic style castle which, after the Thirty Years War was transformed into the Baroque chateaux that we see today. A defining time in the history of Kroměříž was the year 1848 when the Reichstag was moved here from Vienna. This is when Kroměříž became a true pearl of Moravia, the Athens of Moravia!
What to do?
A walk through the historical centre of the town will show you why it once earned the title of most beautiful town in the Czech Republic. There are many buildings and monuments that must be seen, among them the Church of St.Maurice and the Town Hall with its interesting clock-tower. Apart from stunning buildings such as the Church of St.John the Baptist, which was considered to be one of the most beautiful temples of worship in the 18th century, you will also be treated to an oasis of peace and tranquility in the gardens of the Bishops Palace, which has a colourful history in itself and was once the residence of Olomouc bishops and archbishops. Venture inside to view a superior art collection, generally considered the second finest in the country, which includes Titian's last mythological painting, The Flaying of Marsyas.