John Lennon Wall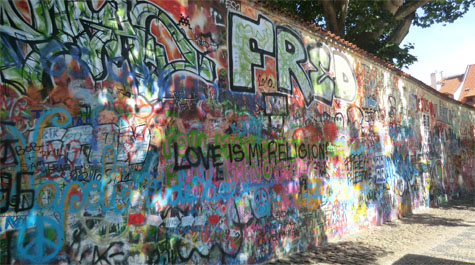 The John Lennon wall was a symbol of freedom and rebellion against the communist regime in the 1980´s. It is situated right across the beautiful building of French Embassy near Kampa.
On the death of John Lennon, youths of Prague decided to have a symbolic burial place for a man they admired for his fight for equality and peace and freedom for all. The site of this burial place became the John Lennon wall. Youths expressed their grievances with the regime by writing them on the wall in the dead of night as they faced a prison sentence on being caught.
These days nothing of the original messages and graffiti remain after a reconstruction by the owners of the wall, the Knights of the Maltese Cross, but it still remains a strong symbol of the fight against oppression and freedom of speech. The wall has again over time become covered with grafitti in the spirit of love, peace and freedom and is a huge attraction for visitors to Prague.
How to get there:
The wall is situated in Velkopřevorské náměstí (Velkopřevorské Square) very close to Kampa Island. You can either walk from the Old Town over Charles Bridge and take the stairs down at the end of it or from the Lesser Quarter side.
GPS:
50°5'10.423"N, 14°24'24.842"E