Holašovice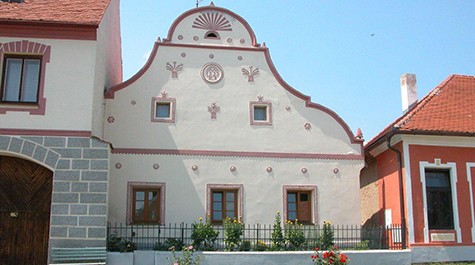 If it is peaceful and beautiful surroundings you are looking for then you will find it in Holašovice. This quaint little village is the best preserved example of the South Bohemian architecture of the second half of the 19th century which is called Folk Peasant Baroque.
History
Holašovice has an interesting history which dates back to the 13th century when the boarder areas where being colonised. Between 1520 and 1525, Holašovice was nearly wiped out by the bubonic plague. Only two of its inhabitants survived! It was gradually repopulated by settlers from Bavaria and Austria. By 1530, the population had risen to 17 and by 1895 there were 157 inhabitants of German origin and 19 of Czech origin. After the displacement of German residents at the end of the Second World War, Holašovice became a desolate and abandoned place and remained uninhabited under the Czech post-war Communist regime. Happily however, from 1990, the village was lavishly restored and inhabited once more. It now has a population of around 140.
What to do?
Being famous for its Peasant Baroque architecture, it goes without saying that a wander around the village is a must. The buildings which can be dated back to the years 1840-1880 are unique in the fact that they have retained their original architectural style since that time. Relax and enjoy the tranquility of the village and like all Czech villages there is the pub where you can take the weight off your feet and indulge in some local cuisine. If you are lucky enough to be there in July, the village comes alive with the Old Czech Fair where you can taste a myriad of Czech specialities and where over 230 traditional crafts are demonstrated.