Devil's Stream Cruises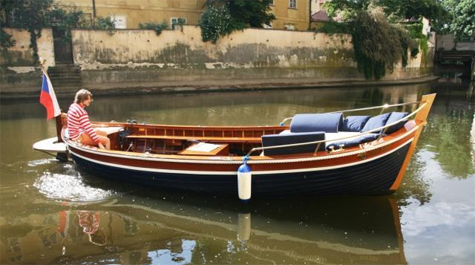 A cruise through the Devil's Stream is an experience you will cherish for the rest of your life. Seing Prague is amazing but seeing Prague from the luxurious mahagony boat is even more.
The Italian hand-made boats have been sailing on the Vltava river since 2009 and have been very popular ever since. The captain of the boat makes sure that you are as comfortamble as you can only be and tells you interesting and exciting stories about Prague.
The boats are equipped with hybrid electric engines that make the cruise very quiet. The cozy seats on the boat ensure that that you can indulge yourself with the views of Prague panorama.
The boat will take you on a cruise on the Vltava river so you can see all the city's highlights such as Prague Castle, Charles Bridge or National Theatre and then to the Devil's Stream. Kampa and Devil's Stream is a place you certainly should not miss while you are staying in the city of Prague.
DURATION:
50 minutes
CRUISE TIMETABLE:
*In the event of inclement weather the cruise will be operated by the Elektronemo boat.
PRICE:
16 € (adults) | 10 € (children)