Church of St Wenceslas in Vršovice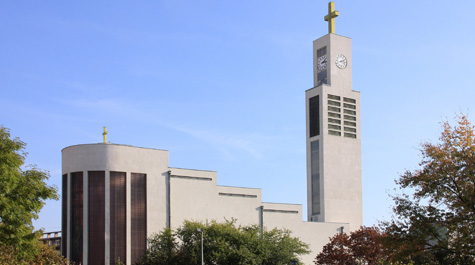 Due to the size of the Catholic congregation in nineteenth Vrsovice in the nineteenth century it was necessary for another Church to be built in addition to the existing St Nicholas.
It was decided that the new church should represent the best of modern Czech architecture and a competition was held to select the best design. Out of fifty two designs a shortlist of three was reached with the eventual winner being Josef Gocar. His design in the Constructivist style would be built on the gentle slope of Ceckov Square (Čechovo náměstí), site of a cemetary until burying ceased in 1930. The foundation stone was laid on May 20th 1929 and the church consecrated the following year by the archbishop of Prague Francis Kordac on 21st September 1930.
Once through the open foyer, the church is divided by three isles which lead to the main altar with its Grand Cross created by Cenek Vosmik. The stained glass window portraying St Wenceslas on horseback was designed by Joseph Kaplicky, whilst the Stations of the Cross which line the walls on slate were the work of Frienrich Stefan.
Above the hall rises the 80 metre high bell tower equipped with five bells. The front of the tower is completely glass and at night the yellow cross on top of the tower shines over the area and can indeed be seen for many miles around.