Church of St Stephen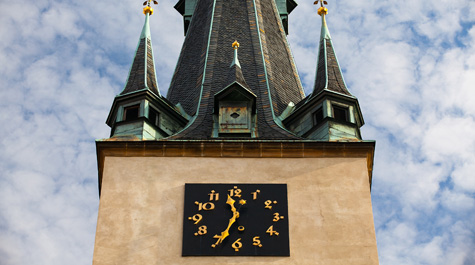 Church of St Stephen is one of the most important churches in the New Town. It is situated in Štěpánská Street, not far from Wenceslas Square.
The church was built at the end of the 14th century. When you go inside you will definitely notice the painting of Madona dating back to the 15th century and three altar paintings made by Karel Škréta.
Next to the church, somewhat standing there independently, there is a bell tower. It was not built at the same time as the church, it was added to it in 1605. The reason for doing so was simple, the church spire was not able to hold such heavy bells.
Famous weddings
In 1849 Bedřich Smetana, a famous Czech composer, got married here and the and in 1898 Antonín Dvořák's daughter had her wedding ceremony as well. Interestingly, she married another famous musician, Josef Suk.
Resting place of Matyáš Bernard Braun
Matyáš Bernard Braun (1684 – 1738), the most famous Baroque painter working in Prague, is burried in the church. He was born in Innsbruck, Austria, but most of his life he spent working in Bohemia.