Church of St Simon and Jude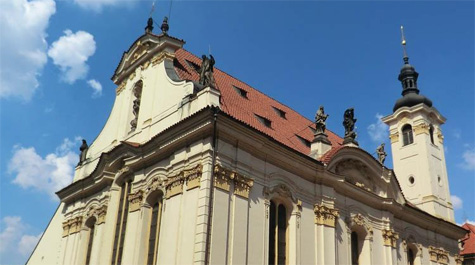 The Church of St Simon and Jude is to be found in U Milosrdných Street in the Old Town very close to the Spanish synagogue. Thanks to the church's fantastics acoustis it is a place where classical concerts take place very often.
The church was built between 1615 – 1620 at the place of an old Gothic chapel. In the 18th century it was then completely redecorated in the late Baroque style into appearance we can more or less see it in today. At that time the church was part of a hospital owned by the Order of the Czech Brothers of Mercy.
The hospital served not only as place for curing ill people but also as – for that time – very modern scientific institution. It was the place of the first anatomy lecture hall in Prague, in 1847 the first operation under narcosis in Bohemia took place here, only a few weeks of the first operation of this kind ever in London in 1846.
When you go to the church make sure you see the organ. It was built in 1724 by Andreas Wambesser and was, among others, played by W. A. Mozart or Joseph Haydn. The organ underwent complete reconstruction in 1993 and it is famous for its exceptional sound quality which in combination with the church's extraordinary acoustics makes it an ideal place for concerts. It doesn't come as a surprise that the Church of St Simon and Jude is used as a concert hall by the Prague Symphony Orchestra.
Address:
U Milosrdných, Prague 1
How to get there:
If you are by the Vltava river at Čechův Bridge keep walking about 100 metres down stream and you'll come across a lovely building of Nemocnice Na Františku (Na Františku Hospital) where  you turn right and in about 50 metres the church will appear on the left-hand side.
Should you be coming from the Old Town Square then the easiest way would be to go through Pařížská Street and take third street right (Bílkova).
GPS:
50°5'31.087"N, 14°25'14.387"E