Church of St. Peter at Na Poříčí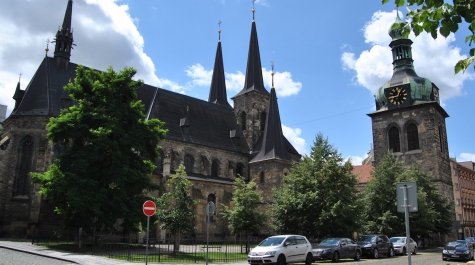 Located in New Town near Florenc, the Church of St. Peter at Na Poříčí, contributes four characteristic steeples and an additional belfry to the Prague skyline. From its numerous reconstructions and refurbishments in various eras, the church displays a rich and unique blend of architectural styles and techniques.
During the 14th and 15 centuries, the present standing church came to replace the original small Romanesque basilica that once stood on the site, first noted in 1178. The triple-aisle building is predominantly gothic in style but was renovated toward the end of the 17th century, adding many baroque elements. The most recent renovations were done by architect Josef Mocker in 1874-1879 and in 1913- 1914 returning to a more gothic or neo-gothic style.
Of the main church's four steeples, the two rising from the front are each 38 metres tall with a width of 4.9 square metres. Another two-storied steeple rises from the north ante-chapel while a fourth sanctus steeple rises above the presbytery on the east side of the building. None of these steeples have retained their bells.
The detached belfry, constructed of sandstone blocks, stands 39.5 metres tall with an arched walk through passage in its base. It is crowned with a bulbous cupola containing a lantern and four clock faces. This belfry has three bells hanging on the second floor: the larger, named Petr, was cast in 1691 and recast in 1701; the second, Pavel, was cast in 1724, while the third is a passing bell.
On the facia of the belfry there is an embedded broad stone with an inscription in Latin proclaiming: "The Commoners of St. Peter's Church at Poříčí built this tower at their own expense and for their grateful descendants in 1598".