Church of St Peter and St Paul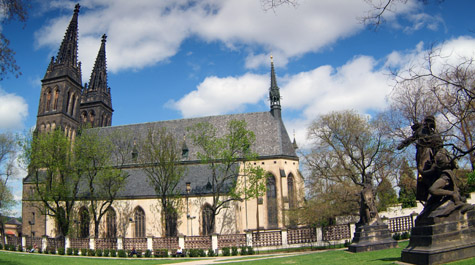 The basilica of St Peter and St Paul is a neo-Gothic church that dominates the Vyšehrad fortress in Prague.
History of the church
The church itself has a long history dating back to the 11th century. It had been rebuilt several times during its almost 1000 years existence. In the middle of the 14th century a major rebuilding of the church took place and the nave as we can see it today with two aisles was built together with lateral chapels and a new choir.
Major changes were made in the first half of the 18th century as well when the Gothic vault was replaced by a Baroque one. Today's appearance the basilica received at the end of the 19th century when it was completely rebuilt by Josef Mocker.
Vyšehrad Cemetery
The cemetery is situated behind the St Peter and St Pauls Church and it is a final resting place of many famous Czechs including Antonín Dvořák, Bedřich Smetana, Karel Čapek or Alphonse Mucha.