Church of Our Lady under the Chain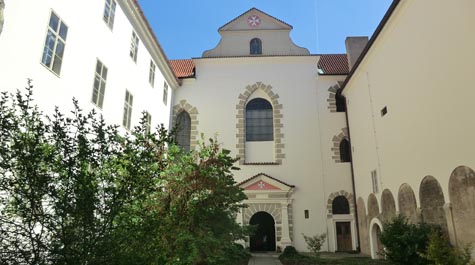 The Church of Our Lady under the Chain (Kostel Panny Marie pod řetězem) is the oldest church in the Lesser Quarter. It was founded back in the 12th century as a Romanesque basilica – its remains are still visible in the courtyard.
The original church was destroyed by fire in 1420 together with the adjacent monastery was given to the Order of the Maltese Knights by King Vladislav. The church was to be changed in Gothic Style though the Hussite wars at the beginning of the 15th century interrupted the Maltese Knights work, only a presbytery and the two towers which we can see nowadays were finished by that time.
Later the Chuch of Our Lady under the Chain was rebuilt in Renaissance style and in the 17th century several Baroque features were added namely by Carlo Lurago.
Why is the church called "under the chain"?
There are several possibilities the church is called as it is called. One of them could be that the church is named after a statue of Virgin Mary (Our Lady) that used to stand by the Judith Bridge (predecessor of Charles Bridge) nearby. However probably more likely explanation of the name is that its name is derived from real chain that was stretching over the Vltava river from here to the Old Town on the other side to stop ships passing through without paying customes. This explanation is further supported by the fact that the street nearby is called Řetězová (Chain Street).
St John of Nepomuk and the church
John of Nepomuk (Jan Nepomucký, 1345 – 1393) is considered to be the first Czech martyr. He was arrested in the Church of Our Lady under the Chain in 1393, tortured and most likely dead thrown to the Vltava river. John of Nepomuk was canonized in 1729 under Pope Benedict XIII. If you go from the church Charles Bridge you will come across his statue in the middle on the left hand side.