Christmas in Prague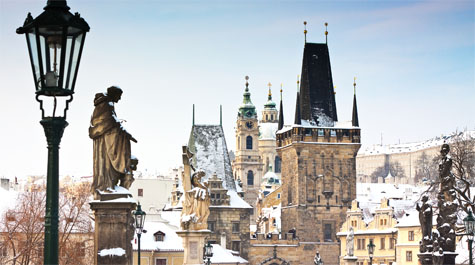 Christmas in Prague is like walking through a fairytale with all the sparkling lights, christmas trees on every corner and the magical atmosphere of the old town.
Every year old town square and wenceslas square are transformed into bustling Christmas markets selling all sorts of Christmas themed wares. Walking through the market on a chilly winter´s afternoon you can´t help but get caught up in the Christmas vibe.Wafting through the air are the scents of mulled wine, cinnamon and roasting chestnuts.
Peruse the many stalls selling wonderful trinkets for the christmas tree, glass decorations, puppets, traditional gingerbread and many tasty snacks that beg to be tried. On Old Town square there is a stage where there are many acts that you can enjoy whilst wandering the market or whilst resting on one of the many benches and soaking up the atmosphere.
If you are in Prague close to Christmas day and you venture away from the old historical centre, you are bound to come across big bath-type containers full of not-too-happy fish in many places around the city, particularly outside supermarkets. These would be the traditional Christmas meal, Carp. Regardless of whether it is liked or not, this fish is served up on the 24th with a good helping of potato salad, washed down with a refreshing Czech beer. This is followed by the much anticipated opening of presents, or for the little ones, it is the time when Jezisek (little Jesus) comes to deliver the gifts. There is no Santa Clause here but on the 6th of December you might bump into Mikulas (who looks like a bishop dressed in red and white) roaming the streets with his companions, the angel and devil, asking children if they have been naughty or nice!