Charles Bridge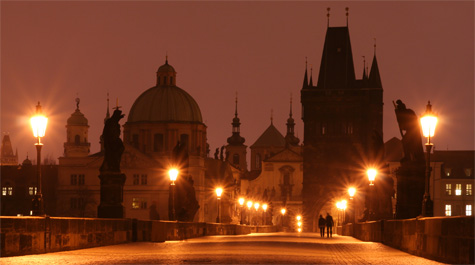 Enjoy a fairytale view of Prague Castle and the banks of the Vltava river with its elegant buildings from the beautiful and historical Charles Bridge.
HISTORY
The construction of Charles bridge started in 1357 under the auspices of King Charles IV, and finished in the beginning of the 15th century. It replaced the Judith Bridge, which was the first stone bridge over the river and collapsed in a flood in 1342. Most of its 17th century Baroque statues are now copies. However, the originals still survive in the Lapidarium. The Old Town Bridge Tower, blackened and aged, was completed in 1380 and on the opposite end of the bridge is the Lesser Town Bridge Tower which was built in the second half of the 15th century under the rule of King George of Poděbrady.
Apart from floods, the bridge has also seen war and its gruesome consequences. A year after the Battle of White Mountain, when the 27 leaders of the anti-Habsburg revolt were executed on 21 June 1621, the Old Town bridge tower displayed the severed heads of the victims to stop Czechs from further resistance.
WHAT TO DO?
You need not venture far from the bridge to find some entertainment. On the bridge itself you can have your portrait or caricature sketched by one of the street artists, or look out for the Jazz band, who are particularly entertaining. Peruse the many stands of photos, prints and paintings of  Prague for sale.
If you are feeling fit then go to the Old Town Bridge Tower and climb the 138 stairs inside the tower to reach the tower gallery, for a spectacular bird's-eye view over Charles Bridge, the Vltava River, the Old Town, the Lesser Town (Malá Strana) and Prague Castle. Then head to the other end to the Lesser Tower and have a peep inside to see an exhibition dedicated to the eventful history of Charles Bridge, with graphic descriptions of the invading armies that have crossed it. But on your way don´t forget to stop and touch the statue of St. John of Nepomuk! You will notice it by its plaque, polished to a shine by the many tourists who have already touched it as it is supposed to bring good luck and ensure your return to Prague.
Right by Charles Bridge there is the famous Kampa Island where you can have a wonderful stroll or take a river cruise on a hitorical steamboat on the Vltava river or a small boat on the Devil's Channel.
There's a great view not only of Charles Bridge from the river. If you'll be taking a river cruise make sure that the battery in your camera is fully charged!