Český Krumlov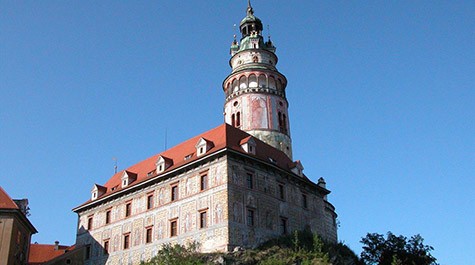 Český Krumlov is a true jewel of the South Bohemian Region. The historic center of the town has been preserved ever since the 16th century, so when, in 1992, UNESCO moved to add this marvel to its list of protected cities, it came as little surprise.
History
The recorded history of Český Krumlov dates back to 1253, when it is first mentioned in documents relating to the future king of Bohemia, mighty Otakar II. descended from the famous Přemyslid dynasty. In 1302, the town came under the ownership of the aristocratic family of Rosenbergs and stayed in their possession for three hundred years, when Vok of Rosenberg fell into debt and had to relinquish Český Krumlov to the emperor Rudolph II of Habsburg. In early 18th century, the town came to the hands of the Schwarzenberg nobility.

What to see
The dominant feature of the town is undoubtedly its majestic castle, built on the promontory above the Vltava River in the 12th century as a Gothic-style fortress, which was later on renovated, and now shines in its renaissance splendor completed with the remains of Gothic ramparts and the chapel. The castle complex includes a unique revolving auditorium set in the beautiful gardens, which provides a scene for experimental performances and musicals during summer. There are many other wonderful sites to see, among them the Gothic church and Baroque Jesuit Seminar. The historic heart of the town is formed by winding alleys fringed with more than 300 gothic and renaissance houses. Český Krumluv boasts a vibrant cultural scene, including International Music Festival held in summer and Five-Leaf Rose Festival in June, named after the red rose in the Rosenbergs coat of arms. And for lovers of fine art, there is a definite must-see – the Egon Schiele Art Center. Last, but not least, the town is renowned as a popular destination for those who enjoy sailing along the Vltava.