Svatopluk Čech bridge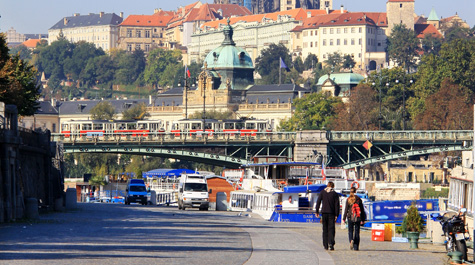 Čechův Bridge is the shortest bridge on the Vltava river in Prague. It is named after a Czech writer, journalist and poet Svatopluk Čech.
The bridge was built between 1905 – 1908 as part of the project creating the Prague inner ring road. At the same time a large part of the Jewish Ghetto had to be taken down as well. One one side there is the Letná Park and on the side the Prague Jewish Quarter. The first synagogue you come acrross when walking from the bridge is the Old-New Synagogue, the most important one in the Jewish Town.
The bridge was designed byJiří Soukup, Jank Koula and František Mencl. As the Vltava river is quite narrow at this place the bridge is 170 m long and 16 m wide.
Decoration of the bridge
The classicizing Art Nouveau style is remarkable both due to the extent of it as well as quality. The two pairs of columns on pylons at each side of the bridge were designed by Antonín Popp. Each column bears figures of genii. If you take a boat trip notice the down-stream side with six-headed hydra figures guarding the coat of arms of Prague.
Svatopluk Čech
Svatopluk Čech (1846 – 1908) is a Czech writer, poet and journalist. He is probably best known for a satirical novel series The Excursions of Mr Broucek (Výlety pana Broučka). Some of the were used as the basis for Leoš Janáček's opera The Excursions of Mr. Broucek to the Moon and to the 15th century. Svatopluk Čech Bridge(Most Svatopluka Čecha) was named after him to his honor as well as plenty of streets all around the country.