Bedřich Smetana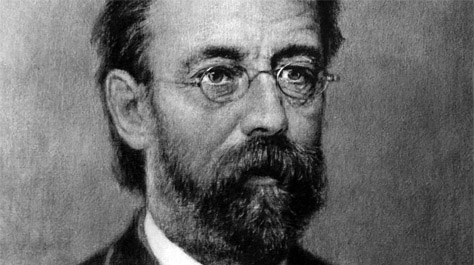 Bedřich Smetana is one of the most significant Czech composers of all times. He is known namely for the set of symphonic poems My Country (Má vlast), First String Quarter From My life and the opera the Bartered Bride. In the Czech Republic Smetana is widely regarded as the father of Czech music.
Smetana was born as the eleventh child into a family of a brewer in Litomyšl on 2nd of March 1824. Music was from a very early age a very important part of his life, Smetanawas naturally gifted as a pianist. He started playing the piano at the age of four and at the age of six he gave his first public performance.
As the family moved from place to place quite often he attended several schools. After his school leaving exam Smetana studied music under Josef Proksch in Prague and was making living as a music teacher in the family of Count Thun. His career did not proceed as he´d imagined though and Smetana decided to leave for Sweden where he set up as a teacher nad choirmaster in Gothenburg.
First operas
Thanks to the change of the political climate in Bohemia that became more liberal Smetana moved back to Bohemia and settled down in Prague. In 1866 the his first two operas, The Brandenburgers in Bohemia and The Bartered Bride, were premiered at Prague´s new Provisional Theatre. Both achieved great success.
Health problems
After 1870 Smetana´s health began deteriorating, he suffered from skin eruptions and several other diseases. By the end of 1874 he became completely deaf. Many would have expected him to retire and quit composing but Smetana did just the opposite. He began a very productive part of his life and many of his masterpieces, such as My Country, were composed in the period of time.
Smetana vs. Dvořák
Smetana has always been regarded as the father of Czech music and this reputation was perhaps strengthened, or shall we say misused, by the Communists, who certainly preferred Smetana to Dvořák who spent many years in the USA and whose masterpiece is called "Symphony from the New World". Nonetheless arguing who of these two is more famous and better is somewhat ridiculous. Both did compose several spectacular pieces of music and among Czechs they are equally popular.