Archbishop's palace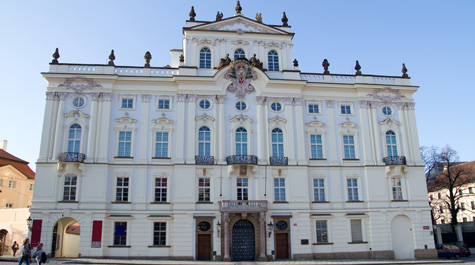 The Archbishop's Palace is situated on the north side of the square right by Prague Castle. As the Bishop Palace in the Lesser Town was burnt down during the Hussite revolution in 1420, the Habsburg king Ferdinand I. decided to built a new grand palace on Hradcany Square (Hradčanské náměstí).
The palace was originally built in the Renaissance style though later it was rebuilt in the Baroque style. The Rococo style we can admire nowadays, both the  facade and most of the beautiful interior, is the result of the reconstruction that took place in the 18th century. The most prescious items is the portrait gallery of Prague's archbishops and a collection of nine French tapestries.
The Archbishop palace has served as a seat of the Prague's archbishops since 1562. Nowadays it is the seat of Catholic Church in Prague.
Address:
Hradcanske namesti, Prague 1
How to get there:
The two easiest ways to get to the Archbishop Palace:
1. take the trame no. 22 or 23 to Prazsky hrad. Then walk through the Prague Castle complex and you will find the palace on your right when you leave the I. Prague Castle courtyard
2. when you walk up Nerudova Street towards the castle it will be the first building you will see when you enter Hradčany Square (Hradčanské náměstí)
GPS:
50°5'23.492"N, 14°23'51.150"E