Antonín Dvořák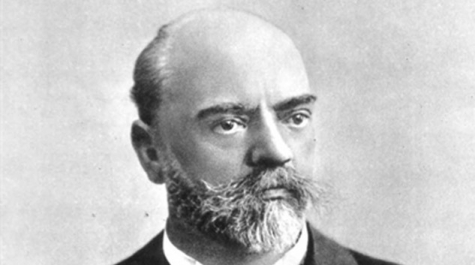 Antonín Dvořák (1841 – 1904) was a Czech composer of late Romantic music and one of the world's greatest composers of all time. Nowadays he is one of the most played composers.
Antonín Dvořák was born in Nelahozeves, as small village north of Prague. His father was an inkepper and a butcher and he planned the same carreer for his son though fortunately Dvořák's teacher recognized his spectacular talent and by the age of 16 young Antonín studied music in Prague 's only organ school. It did not take long and he became an accomplisehed player of the viola and the violin.
He began working in the National Theatre Orchestra and in In order to make some extra cash Dvořák started giving piano lessons and that is how he met his wife. He innitially fell in love with his pupil Josefína but as she did not love him back he ended up marrying her younger sister, Anna. Together they had nine children, three of whom unfortunately died during infancy.
After the marriage he obtained the job of an organist at St. Adalbert's Church in Prague which meant higher social status, secured income and especially lots of free time for composing.
Johannes Brahms in Dvořák's life
Johannes Brahms, a German composer, had a great influence on Dvořák who belonged to his profound admirers. It was Brahms who contacted one of the most prominent musical publishers, Simrock, and made him aware of the great talent of Dvořák. It was Simrock who asked Antonín Dvořák to compose an orchestra version of Slavonic Dances that were originally written for piano only. Many of his works were published and became immediate success and opened him a gate to London where he performed Stabat Mater (1883) and – among others – his symphony No. 7 which was premiered in the United Kingdom capital.
United States (1892 – 1895)
For three years Antonín Dvořák was the director of the National Conservatory of Music i New York. Dvořák himsel set a goal in America which was to discover the original "American Music". It was in the USA where he composed the Symphony from the New World which was to become one of the greatest pieces of music ever composed. His stay in America certainly helped him to get stronger recognition in Europe.
Unfortunately the house in New York where Dvořák lived and composed the Symphony from the New World was demolished in 1990. To honor the composer a statue of him was erected in Stuyvesant Square.
Late career
Upon returning home from the United States Antonín Dvořák spent some time with his family. His daughter married another composer, Josef Suk, in St Stephnen Church in Prague in 1998. In 1901 Dvořák became director of the Conservatory in Prague and his 60th birthday (in 1901) was celebrated as a national event. He died from heart failure on 1st of May, 1904. His final resting place is, as well as Bedřich Smetana´s,  at thecemetery at Vyšehrad.